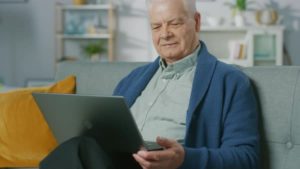 As we turn the page on another calendar year, there are so many blessings to be thankful for and so many wonderful things to look forward to in the coming months. It is so often that we look at the start of a new year as a new chapter in our lives and the perfect way to make the most of it is to prepare yourself and your home for the new year so you can live comfortably for the days and months ahead.
Why put off until tomorrow what you can do today?
So when you start to think about the countdowns that will happen all around the world and the fireworks that will ring in the new year, also take a few moments to think about how you will be ringing in the new year and what changes you can make to your life and your surroundings that can help make an impact in your comfort.
Here are three things you can do now before we ring in the new year that will make a huge impact on your life going forward:
1. Make some layout changes to your home: Aging in place can be as comfortable as you make it. These upgrades can be as simple as having someone help you move furniture around to make it easier for you to get around the house or as large as moving a bedroom from one floor of the house to another. Whatever you need to do to make living in your home more comfortable do it now, so you can enjoy next year.
2. Add home automation: We know that technology can be intimidating, but the strides that have been made even in the last five years have made automation technology a must-have for your home, especially when aging in place. If you have a particularly tech savvy niece or son-in-law, get them to come over and help get you started. You can automate everything from your coffee pot, to your lights and your TV. This will make an immeasurable impact on your daily life.
3. Make some upgrades: Adding in grab bars to the bathroom and securing stairway railings will make a big impact on your ability to live safely in your home for a long time to come.
If you need help with any of this, speak with your home health care agency provider who will help guide you in the best way to get some of these things taken care of before the new year. If you find yourself aging in place this year, you'll be glad you made these upgrades when you did.