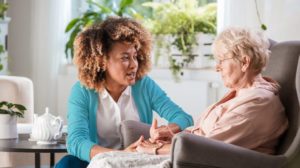 When it's time to start thinking about care for your aging loved one, home care may top your list of options because it offers highly individualized care in a familiar comfortable setting. Of course, the cost of home care services is also an important consideration. What does it mean to enlist private pay home care service in Connecticut? Is it a viable option for you and your family? 
While costs can be a stressful topic for some, there are three very important things you should know about private pay Connecticut home care that can help reduce financial worries. 
Depending on your needs, home care can often be more affordable.

A common misconception is that home care services cost more than assisted living situations. It's easy to see how this idea came to be. After all, as a culture, we prize highly-engaged personalized attention and will often pay more to receive that type of service. Connecticut home care provides this type of nurturing experience to your loved one. 
Yet, studies actually show that home care can be as affordable as assisted living care and much cheaper than nursing home care. In addition, the increase in cost of home care services annually is significantly less than in an assisted living or nursing facility. Plus, when your loved one moves to an assisted living facility, you pay one rate: With home care services, you pay for the care you need. While your loved one's needs may increase overtime, you likely don't have to start by providing round-the-clock care. When you weigh all of the components of long-term care costs, home care turns out to be a more affordable option. 
Cheaper isn't always better.

Perhaps deciding on private pay Connecticut home care was an easy decision for you and your family, but you're wondering if it makes sense to save money by working with an individual provider versus a Connecticut home care agency. That's certainly a fair question. When you and your family work with an individual, you establish the rate of pay, so it's possible that you may find someone who is willing to work at a lower hourly rate. But, there are some advantages that you'll miss out on when you go that route. 
When you work hand-in-hand with a Connecticut home care agency, we take care of:
Making sure your loved one's care is consistent.

Like when hiring an individual, we send the same person to care for your loved one during each visit so that they form a trusting bond and also so that there is no confusion on your loved one's part in the event of memory concerns. However, just as any individual may, there could be times when this person isn't available because of illness, vacation or a personal situation. Then what happens? Well, if you work with an agency, we're able to send someone else to help and make sure that your loved one is safe and well cared for: Your loved one is never left without care.

Handling unemployment, taxes and background checks.

Being an employer comes with a lot of required paperwork and management. Agencies take that upon themselves, so there's no need for you to be worrying about filing the right paperwork or conducting background checks.

Offering complete care services

. Unlike working with an individual, agencies employ a network of qualified professional caregivers. From companionship to physical therapy, Connecticut home care teams can meet all of the needs of your loved one who is aging in place. This means that you don't have to juggle the coordination and hassle of finding more than one home care worker. And, it means that your loved one receives holistic coordinated care.
3. You or your loved one may be eligible for Connecticut aid programs. Like every adult, those who are aging have a certain budget and their lifestyle will be influenced by what this is. It's important to investigate all possible funding sources to help provide the best possible care. Hopefully, you've invested in long-term care insurance earlier on. This can help defray the costs of care for your loved one, as may taking out a reverse mortgage. Other options to consider include:
Just like each person who opts for aging in place, every financial situation is unique. Managing the costs related to your loved one's care can be stressful, but we're here to help discuss the possibilities that make sense for you and your family. Don't be afraid to ask questions.