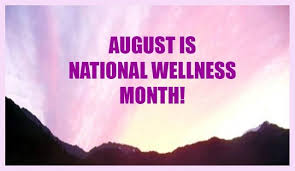 August is National Wellness Month and while it's not an official holiday, it does give us an opportunity to take a look at our habits and how we may be able to improve them. It will also give us a chance to spread the word and get our friends and family talking about wellness, which is a necessary conversation to have with all.
During these uncertain times wellness is an incredibly important way for you to stay fresh and motivated and avoid the pitfalls of depression and mental anguish.
How can you observe National Wellness Month?
Talk to your friends about how they are staying well, both physically and mentally. If you are maintaining social distance, which we all should be these days, you can speak with your friends on the phone or via video conference. You can also get together if you are able to be outside and in an open space. The conversation should revolve around how they are staying healthy during these challenging time.
Join a club. Many groups are doing online classes and some are doing socially distant versions of their normal classes. For instance, Yoga classes are able to be done socially distant while also giving you the mental stimulation of an in-person class.
Shop locally. Fresh grown fruits and veggies are the best way to maintain a healthy lifestyle especially during the summer months. Farm stands or farmer's markets are a great alternative to the produce that is found in your local grocery store.
Observing National Wellness Month doesn't have to be an August only endeavor. You should be observing your wellness year round to stay healthy and active. If you're aging in place there are alternatives to the above that can be accomplished through online learning or local delivery services.