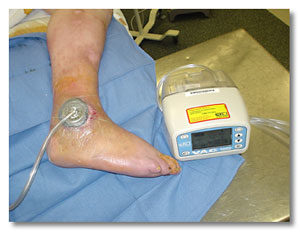 When you have a chronic wound, our home health care CT specialists can help you get it healed.  One of the techniques that our medical professionals utilize is called wound VAC therapy.
So, what is wound VAC therapy?
The procedure involves using a device to decrease the air pressure around a wound which in turn helps it to heal faster.   Decreasing the air pressure around a wound can help in a few ways:
1.) Pull the edges of the wound together
2.) Remove excesses moisture from the wound
3.) Reduce swelling
4.) Help to clean the wound
Our medical professionals are trained in the use of this technique to help deal with chronic wounds that often time require a visit from a home health care agency in CT.