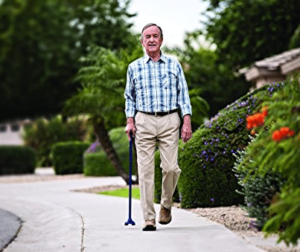 As you or a loved one age mobility can become an issue. As your mobility decreases you may go from being able to go spend time out with friends for lunch or dinner to being held up in your home and not able to even make it to the kitchen for a cold drink without assistance. A lack of mobility can be challenging not only to your physical well-being, but also to your mental health as it can lead to depression.
The good news is that there is hope. There are a host of options for mobility aides, that is, a device that will help you maintain mobility. What you use as a mobility aide will depend on which stage of your life you find yourself in. Here are five different mobility aides and when you would need to use each one.
1. Cane: A cane is the simplest of the aides and is mainly needed when you can walk on your own, but would benefit from a little extra support.
2. Walker: Using a walker still allows you to have the mobility of walking on your own (which you would still be able to do) but gives you a wider base of support to lean on when you need the extra stability.
3. Transport wheelchair: Using this type of mobility aide will require some help, but it also allows you to keep your independence and offers you support only on long outings where you might find yourself tired.
4. Manual wheelchair: This is a slightly more substantial wheelchair and it will help you in the event that you can no longer walk on your own without feeling tired or afraid of falling. This still allows you independence as you are able to utilize the wheelchair on your own.
5. Power wheelchair: When you can no longer power a manual wheelchair on your own, you'll need to move to this mobility aides.
Knowing the right mobility aide to choose can be difficult, but when you're working with a home health care agency in Connecticut you can talk with your provider about what the best option for you to maintain your mobility is. The more mobility you have the more independence and the easier it will be to live an unencumbered life.