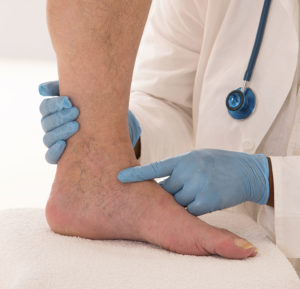 If you've recently been hospitalized for a surgery or other procedure you may have been discharged with a venous thromboembolism (VTE.) This is medical speak for a blood clot. According to the Centers for Disease Control (CDC) nearly 1 million patients in U.S. hospitals are discharged each year with a VTE. Many of those diagnosed have what is known as a HA-CTE or Healthcare Associated Venous Thromboembolism (HA-VTE.) The CDC reports that of the nearly 1 million cases that are seen each year, almost 100,000 of these cases results in a premature death.
A VTE is something that should be taken seriously and monitored closely if you are discharged from the hospital with it. The CDC has recommendations for hospitals to help them limit the number of HA-VTE that they discharge patients with, but there are also things you can do to make sure that when you return home you are monitoring it as well.
Talk about this potential with your doctor in the hospital and get clear direction on what your case looks like
Monitor yourself for any changes in health or well-being during your recovery
Discuss this possibility with your home health care aide and he/she will be able to help you monitor your recovery
Be vigilant with follow-ups to your medical providers to ensure that if anything is happening that is unexpected it can be looked at and resolved before it becomes trouble
A home health care aide can be a partner in monitoring any HA-VTE you may acquire after being hospitalized. If you are unsure about how you can monitor your recovery, talk to your medical provider and make sure he/she is in constant communication with your aide to ensure proper communication between all involved.