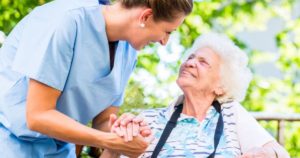 As you (or your loved ones) begin to age, it's important to consider what your ideal living situation will look like; part of this means understanding the difference between assisted living and a service like Connecticut Home Health Care. Afterall, the decision about your living situation is as unique to each individual as your lifestyle has been up until this point. It's best if you can take some time to weigh your options and make a choice that provides the right type of comfort and support through the years to come. 
Both assisted living and home health care options are designed to provide support to those who are aging so that they may keep enjoying their lives, while also getting help with chores and tasks, as well as some medical and personal care needs.
How important is it to stay your home as you age?
One of the biggest differences between assisted living and home health care services is where you will live. Typically, the assisted living option means that you move into a new place. This is often an apartment or room that has been specifically designed to facilitate the needs of those who are aging — grab bars in the bathrooms, call buttons in easy reach, perhaps wider doorways for wheelchairs. 
In contrast, when you choose Connecticut Home Health Care, you live in your own home. You stay surrounded by your memories and the familiarity of the space you've always loved. Sure, for your safety, some adjustments may need to be made over time, but you get to retain all the comforts that make your house a home. 
Companionship is critical as you age. 
Again, when it comes to who you will surround yourself with in years to come, this is a lifestyle choice. In an assisted living facility, you are typically surrounded by those who are in the same stage of life as yourself. This gives you the chance to build new relationships while still having a staff around to offer support when needed. 
But that's not the right choice for all people. Many people who are aging do not want to leave their neighbors and families behind. They have rich social lives already. They want to be surrounded by people of a variety of different age groups. And, as importantly, when it comes to their caregivers, they want a more personal feeling: They want someone who knows them by name and gets to know their wishes, history and worries. For people like this, Connecticut Home Health Care is a better match. 
Your Routines, Your Way – Maintain Your Independence
Lastly, it's important to consider how much of your independence you are ready to release. Assisted living facilities offer many benefits, like meals in a common dining space or onsite hair stylists. But taking advantage of these means that you must tailor your lifestyle and schedules to what fits the facility. Your control over where, when and how you live becomes lessened.
Independence is maintained when you age in place. At home, you continue to create routines that suit you. Decide when you want to eat. Keep seeing the hair stylist who knows how to do your hair "just so." Go for a walk when it suits you. Have privacy when friends stop in to say Hi.
Whether you choose an assisted living arrangement or Connecticut Home Health Care, you'll enjoy the benefits of having help and care as you age. It's simply a matter of how and where you want to live your life during the next few years.