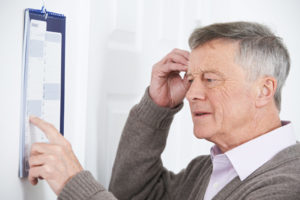 As your loved one is getting older and exhibiting behavioral changes it can be common to be concerned that these behavioral changes are due to the early stages of Alzheimer's Disease.  While it is right to be on the lookout for these types of changes, according the Alzheimer's Association there is a significant difference between the early symptoms of the disease and general age-related behavior changes.
How can the typical person figure out which is which and when it is important to get follow-up medical attention?
The Alzheimer's Association has detailed some of the differences which include:
Age related changes
A single missed monthly payment
Forgetting momentarily what day of the week it is
Not able to find the right word
Misplacing something once in a while
Poor decision making every now and then
Symptoms of Early Alzheimer's
Unable to manage a budget
Confusion about date or season of the year
Inability to have a conversation
Bad judgement and decision-making
Not able to retrace steps to find something that has been misplaced
While it may be difficult to figure out which of these things are happening to your loved one, early intervention has proven to be effective in helping Alzheimer's patients. In other words, it may be better to be safe then sorry. Remember though, an older loved one may be self conscious about memory loss or issues relating to their signs of general aging.