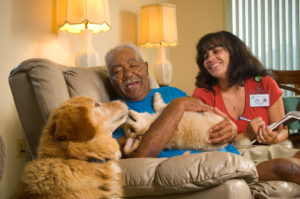 The difference between home health care and home care can be somewhat confusing because the names are so similar, but the services that each provide are completely different.
As a home health care agency in CT we provide experienced and knowledgable medical professionals to come out to your home and take care of you or your loved one's medical needs. These needs may include, but are not limited to the following;
Physical therapy services
Help managing chronic conditions to avoid lengthy hospital stays
Occupational therapy
Speech therapy
Behavioral and emotional symptoms
As a home health care provider we are tasked with being attentive to your medical needs. This differs greatly from the services that a home care provider might engage with your or your loved one in, for instance the services they might provide included but are not limited to the following;
Activities of daily living
Transportation assistance
Meal preparation
House cleaning
Bathing/Grooming
Knowing the differences between these two very different, but important, types of services can be critical in getting you or your loved one the right care. The most critical thing you can do when deciding on an agency is to confirm with them that they provide the right services that you are in need of and if they don't continue looking.
If you ever have any questions about the services we provide, please do not hesitate to call.