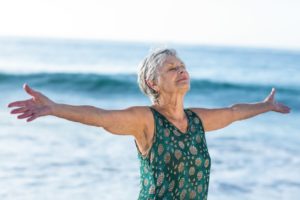 If your loved one is aging in place and appears to be stressed or on edge much of the time, this is a pretty common occurrence. For those who are living at home on their own there can be some added stresses throughout the day that we may not always consider. While we can do our best to eliminate those stressors we cannot complete remove them and therefore stress remains. However, there are some things we can do, or encourage our loved ones to do. Chief among these items is encouraging meditation which has been proven to reduce stress.
The good news here is this is not another added thing that your loved one will have to remember. Meditation is something that takes on a life of it's own when you find your rhythm and realize the best way to practice it for your own individual needs, so once they get started it will become second nature.
Here are some things to consider sharing with your loved one about meditation that can guide them to this incredibly powerful stress reliever.
Meditation doesn't have to be done for hours at a time. Studies have shown that just 25 minutes three times a week can significantly reduce stress levels.
You can't do it wrong. However you choose to meditate it is mainly meant as a way to clear your mind, so if that is sitting in an empty dark room and that works for you, great. It can also be sitting outside listening to birds chirping or taking some extra time to get out of bed in the morning. If it works for you, it is right.
Focus in on one thing. Whether you're focusing on your breathing, the click of the clock, or something else, keeping your mind singularly focused can help you be successful.
Don't be afraid to practice mini-meditation. Taking a few extra seconds to yourself before answering the phone or allowing yourself to sit with your thoughts before you head out on a walk with a neighbor still counts as meditation.
Meditation will not fix all that ails your loved one who is aging in place, but it is a good place to start. Calming the mind and spirit can go a long way in reducing stress and centering the body to heal and recover. If you want more information on meditation you can go here.