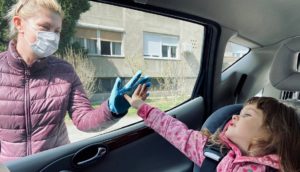 As the COVID-19 vaccine continues to rollout and more and more Americans are experiencing the hope that it provides, the next logically question often becomes when can I see my loved ones.  The short answer is soon.  The longer answer is provided by the United States Centers for Disease Control (CDC) which recently released new guidance on what vaccinated people can and cannot do.
If your loved one is aging in place and you want to see them and they have been vaccinated, even if you have not been vaccinated, according to these new guidelines you may now visit.  Here's how to do it safely;  You can visit without masks as long as you are doing so as members of a single family who live together and your loved one is not at high risk.  If he/she is at high risk you can visit, but you should still wear a mask.
If your loved one has not been vaccinated you will still need to follow CDC guidance on non-vaccinated individuals.  Therefore you should not get together inside and you should remain a safe six feet apart and only visit outside.
The next logical question is, if we get together can we give each other a hug?  If you both are vaccinated the risk of COVID-19 transmission is almost none.  If only one of you is vaccinated and the other is at low risk the risk is still very low.
The safest thing to do is to wait until all parties that are getting together are vaccinated.  While it may be hard to continue to wait, it will be all that sweeter when you can get together with the peace of mind that you are all vaccinated and the risk to each of you is very low.
Getting together with loved ones is certainly a priority for all those folks who are aging in place after what has been an incredibly long year.  However, if you can hold out for just a little while longer, with vaccinations ramping up, safety is within reach.