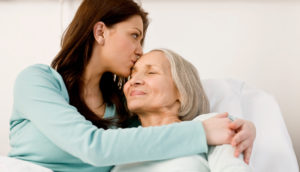 Selecting the right home health care agency in CT is important for many reasons, but one of those reasons is the need to have family care givers educated on the best way to help a patient at home.  Our medical professionals can be with you regularly, but there will be times when a family care giver may need to have some knowledge on how to provide certain care, specifically with a patient with dementia.  Our Skills2Care program is one way that we work with family care givers to provide wonderful caring service to a loved one who may be in need 24/7.
Family care givers need to be educated in the following areas:
Recognize when you or a loved one is getting frustrated and how to handle that frustration
Calming techniques
Communication techniques
When to ask for help
Caring for a loved one with dementia can be frustrating at times and often will lead to physical manifestations of frustrations.  With our Skills2Care program we will work in the environment with a family care giver to provide the tools, both mental and physical, to the care giver to make sure that a loved one is treated with the greatest of ease and that the family care giver remains without elevated levels of stress.