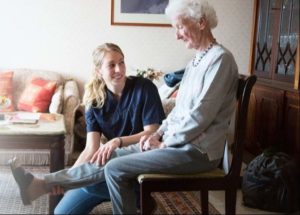 We've been covering the reasons why you should hire a home health care agency in Connecticut for the past few weeks. In the first part of this series we talked about how using home health care can save you money and protect you from potential fall risks. In part two, we reviewed the ways a home health care agency can alleviate the stress placed on your caregiver and how we often personalize your care. In this, the final post in the series, we'll be discussing three additional reasons why hiring a home health care agency is beneficial for your long term care.
As you start to think about whether aging in place is right for you or your loved one, keep some of these reasons in mind.
Environmental recommendations: A home health care aide can help make recommendations for how to make your living space more comfortable and safer for you. This is particularly helpful if you have a hard time getting around the house, whether in a wheelchair or with a walker.
Encourages visitation by family and friends: When family and friends are called on for help with medical issues, it can often be a stress on them and may reduce the number of times they visit. With a home health care aide, they will not be called on to perform any medical duties which will allow them to visit and spend quality time with you.
Shortens or eliminates hospital stays: While a home health aide certainly can't perform every medical procedure in your home, providing hospital-level medical care to you while in your home setting can shorten or eliminate the need for extended hospital stays and allow you to remain in your home for even more time.
We've now covered 9 different reasons why you should hire a home health care agency in Connecticut. If we've left you with any additional questions please feel free to reach out and we can discuss the benefits with you further. You can reach us by using our contact information here.