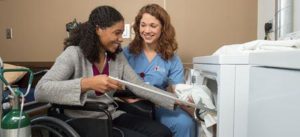 As people age, doing so in there own home and environment becomes more and more important. To age in place comfortably, the assistance of occupational therapy. Occupational therapists help patients with health conditions manage their ability to participate in activities of daily living. Questions they are concerned with include:
Do you have any balance issues while climbing the stairs?
Does arthritis make certain activities difficult or painful?
Has low vision forced you to reduce the amount of detail work you can do?
Are you avoiding activities you used to do because of difficulty to fear of safety?
Occupational therapists will often ask patients to perform certain tasks so he or she can determine how much difficulty they are having while performing tasks. From these assessments, OT's can make recommendations on how aging in place adults can perform tasks in their home more comfortably. They may make recommendations to install grips, install more lighting, and other similar adjustments.
Masters In Home Care offers home occupational health therapy. Contact us to find out how we can help you or your loved one age in place more comfortably.