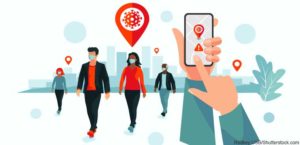 Contact tracing has become an important part of our nation's response the Coronavirus pandemic. The act of contact tracing includes professionals following up with the people who may have come in contact with someone who has tested positive for the COVID-19 virus. This act is one of the best ways to battle an outbreak and make sure that all are safe and remain healthy.
So, if you've come in contact with someone who tested positive for COVID-19, here's what to expect when you get a contact tracing call.
You will be notified that you have come in contact with someone who has tested positive for COVID-19 and you may be asked where you've been and who you've had contact with. All of the information you share on this call is confidential and will not be shared with any other individuals who are called in the contact tracing process.
The caller will then let you know that you should quarantine yourself for 14 days and monitor for symptoms of COVID-19. Quarantining will require you to remove yourself from contact with any other persons for 14 days and limit your in-person interactions entirely. You will be informed that you should monitor for symptoms and if any arise you should contact a medical provider immediately.
One thing to note is that the Coronavirus pandemic has opened up seniors, especially, to fraud. One of the ways that scammers are trying to get your information is through making bogus contact tracing calls. You can read more about this scam here.