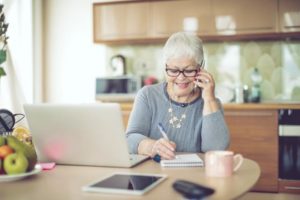 You might not think that someone who is considered aging in place would want to work a job, but a growing number of seniors who are deciding to age in place are thinking about working from home while they age. There are a tremendous amount of benefits to working as you age, not the least of which is the financial benefit. That being said, money is not the only benefit.
In fact, a growing number of people are deciding that retirement is not for them and while they are not headed back out into the workforce in a traditional sense, they are deciding to find something at home that can make them a little extra money and keep them stimulated.
Working as you age has a whole host of benefits including:
Staving off boredom. Boredom is a huge reason why seniors become depressed. Working offers an opportunity to be productive even while at home.
Personal interaction. Depending on the type of job you will be able to have conversations and interactions with people outside of your home.
A sense of purpose. Don't underestimate the power of having a purpose in your later years. If you can maintain that sense of purpose while not stressing your body, you get the best of both worlds.
Continue to learn. Sure there are other ways to learn something new, but having a job allows you to earn some money while you also learn something.
Working from time comes in all flavors these days. Did you know you could run your own dog sitting business without having to hang flyers on telephone poles? Just sign-up to be a sitter for Rover and you can make money watching other people's dogs which might just satisfy your interest in a pet too.